Independence Day is here and stores have started giving discounts on these occasion, here are few stores which are giving discount online and offline.
Myntra : The online tshirt store is giving a flat Rs.100 off on their entire Independence collection to celebrate this day. So go ahead check out these cool designs to show of on D day. Click here..
-
Papam : Remember, I introduced about Papam long ago and also shared how you could send free Greetings then (See this post). So here is Papam again giving at 20% discount on their Independence day Collection of Greeting cards, send Greeting and share love. Check out their store here..
-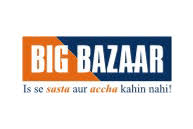 Big Bazaar : Big Bazaar as always has come up with MAHA Bachat campaign where it will be providing stuffs at lowest possible prices, I have seen people standing in que to get into stores, for sure they provide the lowest of prices atleast for these 5 days i.e 12th to 16th. And guess what they have come up with a innovative way by giving us a preview of what there store would offer online, check out maha bachat prices here..
-
Personal Message : Well guys, I am not coming up with much stuffs these days coz I am quite busy with stuffs in my life and also am not getting much mails from you guys sharing things. Please share with me all those which you know and I will post them here. Also, I will come up with some more stuffs for sure..
Stay UPDATED. Subscribe to freeGyaan via :
SMS Updates
RSS
Email